Established in 1993, Taizhou Jindun Machinery Co. is a trustworthy enterprise with a focus on the design and production of aluminum alloy wheels and rims. Our aluminum wheels are great for motorcycles, mopeds, scooters, trikes, and dune buggies. These products can be customized according to size and style, fulfilling the personalization needs of customers.

Jindun employs an experienced technical team made up of industry experts and we have over 100 experienced employees, 5 of whom are technical engineers. Our R&D department allows us to design and manufacture products based on the individual requirements of customers. We specialize in providing custom and aftermarket wheels and rims, so we understand that these customers are looking for a high degree of quality. Our advantage lies in the capacity of our factory and the precision of our equipment. Today, we can produce up to 5000 units per day, nearly 1,500,000 annually. We utilize automated production equipment that completes material testing, molding, CNC machining, surface treatment, and finished product testing processes. Finished wheels and rims undergo testing, checking for 6 categories, including air leakage, impact, bending, stretching, fatigue, and dynamic balance before they are shipped.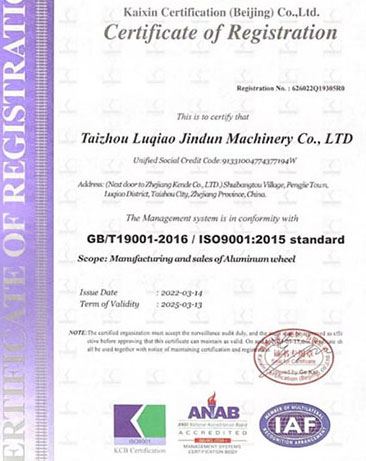 Jindun is equipped with advanced manufacturing equipment, including 3 melting furnaces, 12 die casting machines, 35 CNC machine tools, 1 heat treatment furnace, pre-treatment machine before painting, painting equipment and powder coating equipment. The testing equipment includes 1 aluminum alloy testing machine, 1 fatigue testing machine, 1 punch press and 5 airtightness testing machines. We can manufacture the products in a flexible way with a full set of equipment and experience. In 2014, Jindun was IS09001:2015 certified. We pursue 100% of customer satisfaction, aiming to exceed expectations and offer high quality, but cost effective products for motorcycle lovers all over the world.
Jindun is only 2 km away from the Taizhou Luqiao airport and 25 km from the Wenling RH train station. We welcome you to visit our company. Jindun will be your ideal choice and reliable partner if you need aluminum alloy wheels and rims for light vehicles.